Last Updated on June 8, 2020 by Cosmic
On February 19, K-pop idol group A.C.E were the victims of a physical attack thought to be carried out by anti-fans. The perpetrators superglued parts of their car together in an attempt to harm the members after they had finished their practice late at night.
The members of A.C.E are visibly shaken and Beat Interactive, A.C.E's company, have since released a statement to reassure worried fans. Beat Interactive have confirmed the attack as a deliberate terror attack against A.C.E and will take legal action. They will also be making changes to planned schedules as 'the members' mental and physical health have deteriorated' due to this incident.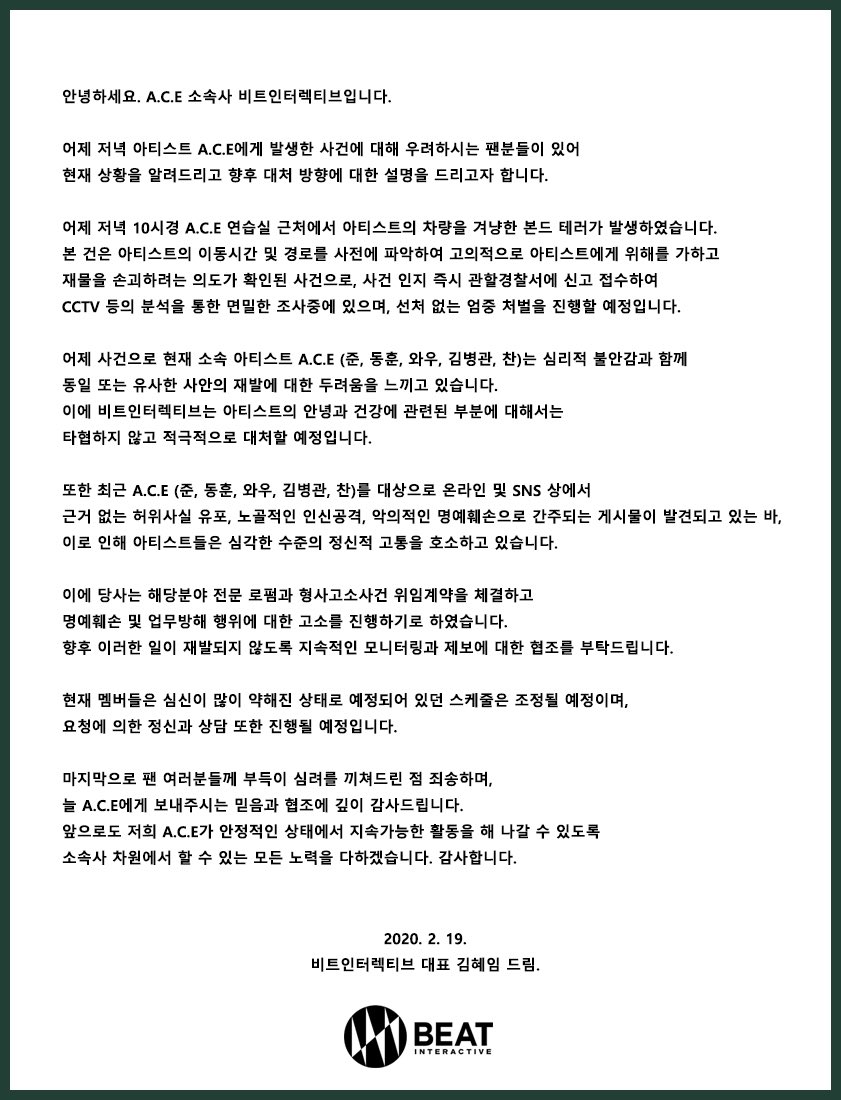 Many fans have come to believe that the attacks have come from a former WoW (a member of A.C.E) fansite called Black Exclam, which closed a month ago. Since then, the former owner has made many degrading and threatening comments towards the members, specifically targeting WoW.
Since the fansite has been closed, she has also spread baseless accusations between WoW and a married woman, complained about WoW's weight, and created accounts to flood A.C.E's VLives with negative comments.
Claims by other anti-fans also include A.C.E members holding inappropriate and racist League of Legends IDs. However, A.C.E were on tour or filming for variety shows during the times that the anti-fans claimed they played. With such a situation so easy to forge, fans quickly debunked these rumors.
The former fan is also suspected to have connections to the hacking of N.CUS's Twitter account earlier this month and used it to retweet hate comments towards A.C.E. Since then, N.CUS have released an apology as well as promising to pursue legal action.
Choice have been working hard to report all hateful comments on their fancafe. However, several anti-fans have left hateful messages and demanding fanship refunds which Choice have also been working hard to drown out by leaving many positive messages.
We ask that fans support A.C.E through these difficult times.
---
Information credit: (1)